Ottawa Air Conditioner Installation and Repair
Tired of hot sticky nights without air conditioning? Is your A/C loud and inefficient?
With the extreme temperature shifts we experience here in North American climates, a good quality air conditioning (A/C) unit is as important to your comfort as an energy efficient, reliable furnace.
You want something that will provide you the comfort you desire in the summer, without the inconvenience or cost associated with an old, loud and inefficient A/C system. In fact, Air Conditioners have an additional benefit. They eliminate excess humidity during the summer months, thereby protecting the possessions your home and reducing bacteria and mold growth.
We recognise that not everyone's needs are the same and that's where our many years' experience comes in. We offer an extensive range of cooling options and we will advise you on the best system for your home, be it a 2-stage or single stage A/C unit, or even a ductless system for a summer cottage.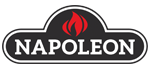 Napoleon's line of central air conditioning units cool and dehumidifies indoor air to bring balance and efficiency to your home. With superior engineering and technology they offer state-of-the-art cooling to keep your family comfortable during the hot humid days of summer.
For an in-home consultation to determine your cooling needs, call us today at 613 832 1322 or use our Get an Estimate form.